Sponsorship Opportunities
Listed below are programs for which the WDS seeks sponsorship in 2017. Corporations that have previously supported a WDS program or event will be given the first right of refusal for the sponsorship. All contributions will be accepted on a first-come, first-served basis. Please see the 2017 Sponsorship Brochure for more details on these opportunities.
Contact Missy Zagroba, WDS Executive Director, at mzagroba@womensderm.org or by calling 877-WDS-ROSE with questions and/or inquiries.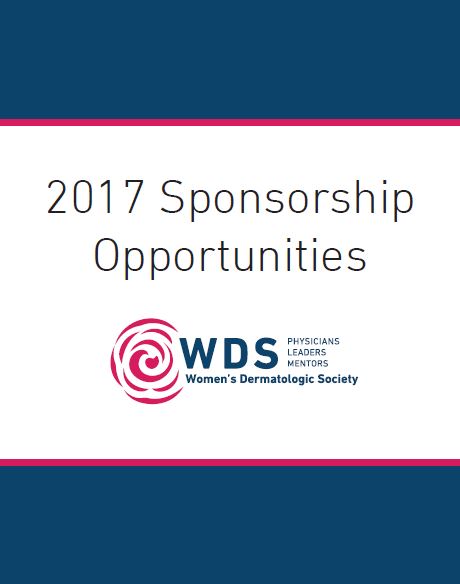 WDS AWARDS
Academic Research Award
The WDS Academic Research Award provides funding for residents and early-career dermatologists with research grants intended to focus on both women and men's health issues.
Career & Community Development Award
The Career & Community Development Award provides WDS Members with opportunities to enhance their career development through participating in hands-on training and education.
International Travel Award
The International Travel Award provides support for international women dermatologists to attend the WDS Annual Meeting & Luncheon and the AAD Annual Meeting. These awards are provided to international dermatologists who demonstrate financial need.
Mentorship Awards
The WDS Mentorship Awards Program promotes the concept of mentorship within the WDS by establishing long-term relationships between mentors and mentees. The program helps develop leadership potential in candidates who have shown early promise through exceptional activities.
NETWORKING EVENTS
The WDS Networking Events encourages and supports women to maximize their personal and professional potential by meeting and networking with their colleagues.
Networking Luncheons
Provide an opportunity for WDS Members to network while attending other dermatology societies meetings. These luncheons serve as a perfect opportunity to meet WDS Members in an intimate setting.
Academic Dermatologists Committee Luncheon | Society for Investigative Dermatology Meeting
Women Dermatologic Surgeons Committee Luncheon | American College of Mohs Surgery
Women Dermatologic Surgeons Committee Luncheon | American Society for Dermatologic Surgery
UPCOMING NETWORKING EVENTS
2018 WDS Annual Meeting Luncheon



March 3, 2018
The WDS Annual Meeting & Luncheon highlights the achievements of the Society as well as its members. The Annual Meeting & Luncheon gives members an opportunity to meet, exchange ideas, network, and learn more about the issues in the world of dermatology. It also offers sponsors several opportunities to interact and gain exposure with the WDS Members.
General Annual Meeting Luncheon Sponsorship
Luncheon Printed Program
Board of Directors Meeting and WDS Center
Practice Enhancement Reception
Networking Reception
Executive Committee Dinner
Legacy Celebration