International Pioneer Award
The WDS International Pioneer Award recognizes an individual who has enhanced the role of women in dermatology, has served as a mentor or role model for women, has achieved accomplishments that have impacted the specialty of dermatology or medicine, and is recognized as a pioneer or trailblazer for women's issues or women in dermatology.
This award is given every 4 years at the WDS International Forum during the World Congress of Dermatology to an individual who has made a difference for women in dermatology at a global level.
Nominations are accepted until March 29, 2019 from WDS Members, and will be reviewed by the WDS International Sections Committee.
Submit nominations to wds@womensderm.org with the nominee's name, and letter(s) of recommendation. Be sure to include his/her contributions to WDS within your letter.
Past Recipients
2015 - Zenab El-Gothamy, MD (Egypt) & Amanda Oakley, MBChB, FRACP (New Zealand)
2011 - Evangeline Handog, MD (Philippines)
2007 - Marcia Ramos-e-Silva, MD, PhD (Brazil)
2003 - Kazue Ohara, MD, PhD (Japan)
2015 Award Recipients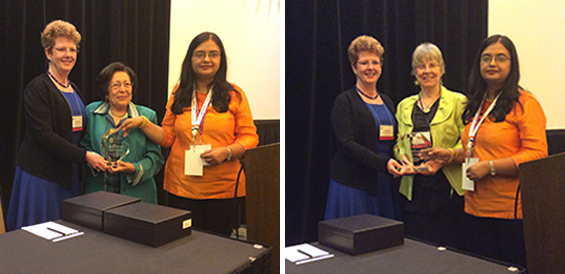 Zeinab El-Gothamy & Amanda Oakley