International Journal of Women's Dermatology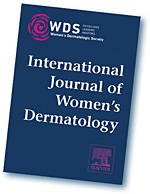 The IJWD publishes articles pertaining to dermatologic medical, surgical and cosmetic issues faced by female patients and their children.
Original research articles, review articles, unusual case reports, new treatments, clinical trials, education, mentorship & viewpoint articles.
Open access model
Rapid turnaround
For more information and to read the current issue, please visit: www.wdsijwd.org
The IJWD has officially been added to PubMed Central! Read prior volumes in the PMC archive here.
For upcoming speaking opportunities, feel free to DOWNLOAD THE IJWD POWERPOINT PRESENTATION SLIDE HERE.
All questions and applications can be directed to JIDEditor@sidnet.org.
Meet the IJWD Editorial Board
Founding Co-Editor in Chief:
Jane M.Grant-Kels, MD

Co-Editor in Chief:
Dedee F. Murrell,
MA, BMBCh, MD, FACD

Co-Editor in Chief:
Jenny E. Murase, MD

Deputy Editor:
Neil Sadick, MD
View the Entire IJWD Editorial Board