Rose Hirschler Award
The Rose Hirschler Award is named in honor of Dr. Rose Hirschler, one of the first known female dermatologists in the United States. The award is presented annually by the WDS, to physicians chosen for their significant contributions to medicine and dermatology, and who, by their achievement, have served to enhance the role of women in the dermatologic specialty.
Nominations are accepted from WDS Members, and will be reviewed by the Annual Awards Committee.
Submit nominations to wds@womensderm.org with the nominee's name, and letter(s) of recommendation. Be sure to include his/her contributions to WDS within your letter.
Past Recipients
2023 - Amy McMichael, MD
2022 - Pearl E. Grimes, MD
2021 - Mary E. Maloney, MD
2020 - Suzanne Olbricht, MD
2019 - Victoria P. Werth, MD
2018 - Jane M. Grant-Kels, MD
2017 - Kathleen J. Hectorne, MD
2016 - Amy Paller, MS, MD
2015 - Suzanne Connolly, MD
2014 - Lynn A. Drake, MD
2013 - Marianne N. O'Donoghue, MD
2012 - Jean L. Bolognia, MD
2011 - Boni Elewski, MD
2010 - Susan Weinkle, MD
2009 - Ilona Frieden, MD
2008 - Janet G. Hickman, MD
2007 - E. Dorinda Shelley, MD
2006 - Lenore Kakita, MD
2005 - Patricia G. Engasser, MD
2004 - Richard Odom, MD
2003 - Elizabeth I. McBurney, MD
2002 - Nia K. Terezakis, MD
2001 - Ruth Freinkel, MD
2000 - Barbara A. Gilchrest, MD
1999 - Inga Silberberg-Sinakin, MD, Gloria Graham, MD & G. Jeanette Thorbecke, MD, PhD
1998 - Antoinette F. Hood, MD
1997 - Vera Price, MD
1996 - Wilma F. Bergfeld, MD
1995 - Ricky K. Schachter, MD
1993 - Marie-Louise Johnson, MD
1992 - Stephania Jablonska, MD
1991 - Frances J. Storrs, MD
1990 - Walter B. Shelley, MD
1989 - Nancy Burton Esterly, MD & Margaret Gray Wood, MD
1988 - Miriam Chancy Reed, MD
2023 Award Recipient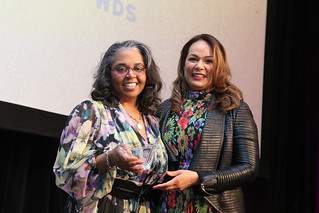 Amy McMichael, MD