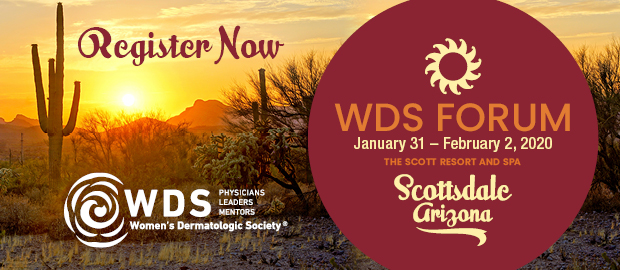 2020 WDS Forum
---
The Scott Resort and Spa
Scottsdale, Arizona
January 31 - February 2, 2020
WDS is excited to welcome attendees to the 2nd Annual WDS Forum. This is a great opportunity for residents, young and seasoned physicians and leaders to network and learn about a variety of topics outside of and within Dermatology.
The WDS Forum will feature a robust CME program with speakers from different areas of women's health, topics on leadership, as well as Joy Project highlights. There will also be an interactive session with our industry partners, breakfast symposiums, a poster session, oral abstract presentations, and various networking opportunities!

Registration Rates
---
| | |
| --- | --- |
| Registration Type | Registration |
| Member | $375 |
| Non-Member Physician | $450 |
| Young Physician (3 years post Residency) | $300 |
| Residents* | $150 |
| Industry Partners - Additional | $1,000 |
| Saturday Only Option (Local Non-Member Physicians) | $200 |
*Travel Grants will be awarded on a competitive basis to WDS Resident Members. Grants will cover travel and registration fees associated with the Forum. The deadline to apply is December 6, 2019 and all applicants will be notified the week of December 16, 2019. To access the Travel Grant application, please complete a WDS Forum registration. If you are chosen to receive a travel grant, your registration will be refunded to you.

---
As part of the Joy Project, WDS is hosting two brief Story Slam sessions at the WDS Forum on Friday, January 31, 2020 and Saturday, February 1, 2020. We are looking for stories that that encompass the theme "How You Have Found Joy at Work."
What is a Story Slam?
A Story Slam is a live storytelling event open to participants to share their experiences around the theme "How You Have Found Joy at Work." Each participant will have 5-6 minutes to tell their own personal story having, seeking, giving, or receiving joy while at work. What has made you happy? What have you found can make others happy? Perhaps joy found unexpectedly? Whatever your personal spin is on "Joy at Work" we want to hear about it. Because we have limited time, we request the Story Slam candidates send a 1 minute video of part of your story you will tell to us at the Forum. Let your joyful creativity flow!
How to Become a Story Slam Candidate
1. Review the topic "How You Have Found Joy at Work"
2. Create a 1 minute video preview of your personal story for consideration
3. Submit your video by December 18, 2019 to Maggie MacGillis: mmacgillis@womensderm.org
Story Slam Selection Process
The WDS Forum Program Committee will review the submitted videos and select participants to present a 5-6 minute story at the 2020 WDS Forum. Participates will be notified in early January.



Thank You to Our Featured Partners
---
| | | |
| --- | --- | --- |
| Premium Partner | Platinum Partner | Gold Partner |
| | | |