International WDS Forum during the World Congress | Milan, Italy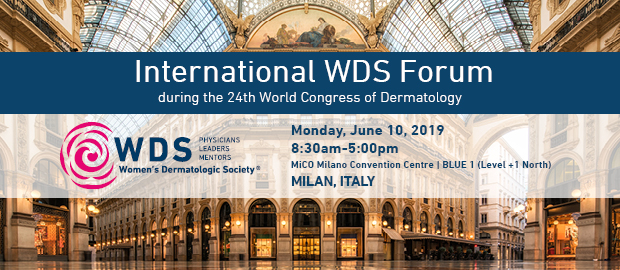 Networking Reception
On Sunday, June 9th, WDS members and guests gathered for the WDS Networking Reception at the Palazzo Parigi Hotel & Grand Spa.
Attendees had the opportunity to network with WDS members and World Congress attendees while enjoying cocktails and hour d'oeurves
International WDS Forum
On Monday, June 10th, WDS welcomed attendees from all over the world to the International WDS Forum during the 24th World Congress of Dermatology. The Forum kicked off with a breakfast symposium supported by UCB, Inc. featuring speaker Jenny Murase, MD, "Addressing Unique Considerations for Women with Psoriasis". Leaders from around the world including; Gabriella Fabbrocini, MD (Naples, Italy), Rashmi Sarkar, MD, MNAMS (New Delhi, India), Lotus Mallbris, MD, PhD (Indianapolis, Indiana), Michelle Rodrigues, MBBS (Hons), FACD (Melbourne, Australia), Maria-Ivonne Arellano-Mendoza, MD (Mexico City, Mexico), Ncoza Cordelia Dlova, MBChB, FCDerm, PhD (Durban, South Africa), and Lidia Rudnicka, MD, PhD (Warsaw, Poland) shared their stories, challenges, and pearls they have encountered in their path to leadership.

After a walking poster session, Dedee F. Murrell, MA, BM, MD, FRCP, FACD was presented the International Pioneer Award for her role in the enhancement of women in dermatology, serving as a mentor and role model for women, her accomplishments that have impacted the specialty of dermatology and medicine, and for being a pioneer for women in dermatology. Congratulations again Dr. Murrell!

The afternoon was filled with oral abstract presentations covering a wide variety of Dermatology and Women's Health topics. The International WDS Forum provided an excellent opportunity to learn and networking with Dermatologists at all levels in their careers from all over the world.