Networking Breakfast & Panel Discussion at the ACMS Annual Meeting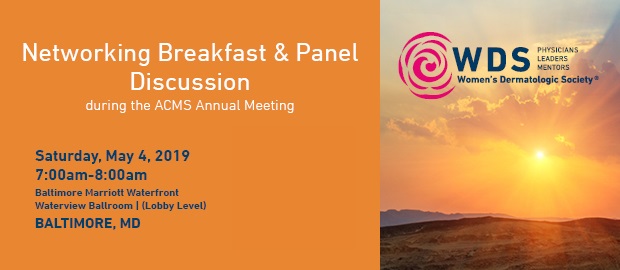 The Women's Dermatologic Society held a Networking Breakfast during the American College of Mohs Surgery Annual Meeting in Baltimore, MD on Saturday, May 4th. The breakfast included a panel discussion lead by Christine Schafer, MD, Dermatology Resident at Washington University and panelist each shared 5 Pearls in 5 Minutes. Mariah Brown, MD (University of Colorado Hospital and School of Medicine), M. Laurin Council, MD (Washington University) and Natalie Curcio, MD (Curcio Dermatology, P.C.) each shared their tips on work/life balance, finding your passion, managing finances, and getting through difficult times. The breakfast was attended by residents, and established dermatologists and provided a great networking experience for all.
Thank you to the WDS Residents, Fellows, & Young Physicians Committee for providing the opportunity for 25 Resident Members with complementary tickets to the event.