Indian Chapter of the Women's Dermatologic Society: Joint WDS-Indian WDS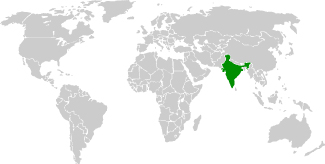 Rashmi Sarkar joined the WDS in 2006 on her visit to the 63rd Annual AAD Meeting in San Francisco, CA. She was invited as an AAD speaker and as an International Travel Grant Awardee by WDS. She has served as a member of the International Affairs Committee from 2007 to 2010, and as Co-Chair from 2010 to 2011. She is now serving as Chair of International Affairs Committee, from 2012 to present. She has attended most of the WDS meetings and networking receptions held during the Annual AAD, and has encouraged Indian women residents and dermatologists to become members of WDS as well.
After attending and co-hosting the WDS Networking Reception during the International Congress of Dermatology in Prague in 2009, she decided to hold the first WDS Networking Reception in New Delhi, India. Wendy E. Roberts, MD (WDS President, 2009-2010) lent her support by launching the event on November 1, 2009 and served as a guest speaker. Over 70 women dermatologists attended the reception, which focused on Leadership and the Balancing Act, with talks by an eminent female educator, journalist and women dermatologists from across the country. She then began discussing the idea of a Joint Indian WDS with Dr. Roberts. Since then, there have been several Indian WDS networking receptions across the country to disseminate the idea of WDS. On November 2011, under Diane Berson, MD (WDS President 2011-2012), the WDS Executive body approved of the Joint Indian WDS and it was passed by the bylaws at Annual Business Meeting and Luncheon of WDS in March 2012 at AAD Annual Meeting in San Diego.
Several meetings and networking receptions of Joint Indian WDS have been held at different places in India. In recent years, awareness has been built through receptions at the Indian Association of Dermatologists, Venereologists and Leprologists (IADVL) Conferences/Dermacon in Lucknow (2010) and Jaipur (2012); the CSI Conference in Mumbai (2010); and the WDS Retreat at New Delhi, India, preceding the Annual Conference of IADVL Delhi (December 2011). WDS President
Janet G. Hickman, MD, co-hosted the December reception, where we signed up 10 new members. In 2012, a joint meeting was held at the ASPCR Conference in New Delhi, co-hosted by Rashmi Sarkar and Vangee Handog. In 2013, Valerie Callendar (WDS President 2013-14) was the guest speaker at Dermacon, Ahmedabad. The First Joint WDS-IWDS Rose Parade of Cases was held at ICD 2013-Dermacon 2014 at New Delhi and was co-chaired by Rashmi Sarkar, Dedee Murrell and Wendy Roberts, and was attended by 120 members with international speakers from USA, Australia, Europe, and Africa. This was followed by a joint Pigmentary Disorders Society-Indian Women's Dermatologic Society Networking Reception and Dinner at Forte Grande, New Delhi on December 7, 2013. The meetings were organized by Rashmi Sarkar, along with co-hosts Latika Arya, Rekha Sheth, Geraldine Jain, Hema Jerajani, Sangeeta Amladi, Surabhi Sinha.